Distinguished Faculty Lecture Series
Distinguished Faculty Lecture Series
Introduction
Established in 1974, the annual Distinguished Faculty Lecture is dedicated to acknowledging the work of our most esteemed and accomplished faculty members. The lecture series not only honors individual faculty members and their achievements, but also celebrates the values of academic excellence that we share as a community. Each honoree is presented with the Chancellor's Medal, the highest recognition bestowed upon faculty by the campus.
Fall 2022 & Spring 2023 Lectures
Spring 2022 Lectures
Image
Lynnette Leidy Sievert 
Professor, Department of Anthropology 
The Evolution of Menopause and Post-Reproductive Life 
April 4, 2022 
4:00 PM
Almost all fish, amphibians, and reptiles continue egg and sperm production throughout life. In contrast, female mammals are born with, or soon after birth achieve, a finite number of eggs that slowly dwindles across the lifespan to the point of exhaustion. In humans, this results in menopause. The evolution of female menopause and post-reproductive life seems counterintuitive. Why select for the cessation of reproduction before the end of the lifespan? Some consider menopause and post-reproductive life as direct products of natural selection during human evolution. However, Professor Sievert, who holds international stature as a top expert on menopause, argues that, from a cross-species perspective, menopause and post-reproductive life are the indirect byproducts of natural selection for other traits. Patterns of early egg production and lifelong egg loss, when coupled with a lengthened lifespan, explain the appearance of menopause and post-reproductive life in humans, whales, and other mammals.
---
Image
Wayne Burleson 
Professor, Department of Electrical and Computer Engineering 
Embedded Security: An Ongoing Challenge for Healthcare 
March 23, 2022 
4:00 PM
Smart healthcare technology has enormous potential to improve patient outcomes, reduce health inequity, and reduce costs. Internet-connected (IoT) medical devices such as pacemakers, insulin pumps, and neuro-stimulators make it possible to monitor health and deliver care anywhere. However, security, privacy, and trust issues loom due to the highly personal health data at risk. There is a pressing need for embedded security solutions, not only for healthcare IoT, but also for other critical technological aspects of modern life—from autonomous vehicles, to power distribution, to smart homes. In this lecture, Professor Wayne Burleson, one of the world's premier researchers in the field, will discuss these concerns and how UMass Amherst is leading a multi-university team to solve these hard multidisciplinary problems and deploy solutions. The team combines expertise in engineering, computer science, nursing, medicine, and public health.
---
Image
Pablo E. Visconti 
Professor, Department of Veterinary and Animal Sciences 
Male Fertility and the Success of Assisted Reproductive Technologies 
March 3, 2022 
4:00 PM
Reproduction is an essential biological function that ensures the continued existence of species. Besides the beauty of understanding reproductive processes in plants and animals, research in reproduction has social, economic, and clinical consequences. This research can be used both to increase reproductive success and to prevent reproduction through contraceptive methods. In this lecture, the highly respected and widely cited researcher Professor Pablo Visconti will present a historical overview of the science of Assisted Reproductive Technology (ART) and of contraception—including this technology's close ties to our university. Visconti will then describe how the ongoing study of sperm metabolism has led to advances in both ART and in the development of methods of male contraception. Procedures pioneered in his lab promise to improve the success of in vitro fertilization procedures, while his lab's novel research targeting specific master regulatory proteins of the testes advances the science of male contraception. 
---
Distinguished Faculty Lectures 2021
Distinguished Faculty Lectures 2020
Professor Elizabeth Bertone-Johnson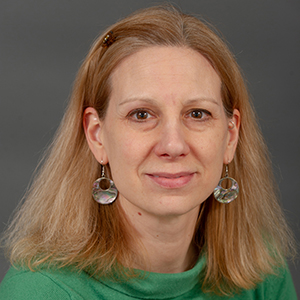 Departments of Health Promotion and Policy, and Biostatistics and Epidemiology
School of Public Health and Health Sciences
Why the Menstrual Cycle Matters
October 7, 2020
Though nearly half of the world's population menstruates, very little is known about how the menstrual cycle is associated with other aspects of health. However, exciting new evidence suggests that the timing of someone's final menstrual period and whether they experience premenstrual symptoms in their 20s, 30s and 40s may predict their health after menopause. In this talk, Professor Elizabeth Bertone-Johnson will discuss how these aspects of the menstrual cycle may predict long-term risk of cardiovascular disease and diabetes. If it can be determined whether these menstrual-related factors may be early sentinels of future disease, this knowledge can be used to identify young women to target for early intervention. Bertone-Johnson will present results from her research investigating how modifiable factors such as diet, smoking, weight gain, and behavioral health play important roles in these relations, and discuss how improving health behaviors in adolescence and young adulthood may have lasting positive impacts on women's health.
Professor Panos Kevrekidis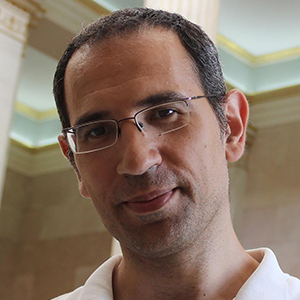 Department of Mathematics and Statistics
College of Natural Sciences
Nonlinear Waves and their Applications: From Oceans to Planets, From Lasers to Quantum Fluids, From Origami to Pandemics
November 10, 2020
In this talk, Professor Panos Kevrekidis will explore a number of ideas about nonlinear waves and their implications to a diverse array of fields: from mathematics to physics, engineering, computing, biology, and even (a little) art. He will begin with some history from 18th and 19th century fluid waves in channels and oceans, associated engineering observations, and artistic renderings. Next, he will share an intriguing story of (non) equity and inclusion around the first computer in post-atomic-bomb Los Alamos National Lab. The presentation will then pass through some Nobel Prize winning physical ideas related to the laser, quantum fluids, and some of their recent variations pursued experimentally including here in Amherst. Finally, the audience will learn how in the past few years such wave phenomena have emerged in exotic materials, such as lattices made of origami elements, and how in the last few months they are being considered toward studying the spread of pandemic infections. Time permitting, Kevrekidis will also touch upon the intriguing work of the UMass Amherst chancellor in the field of nonlinear waves!
Professor Daniela Calzetti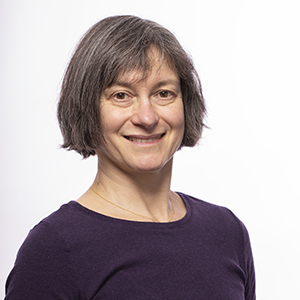 Department of Astronomy
College of Natural Sciences
Stars are not "Spherical Cows"
December 1, 2020
Stars are the sources of all the light we see in the universe. Whether investigating our own celestial neighborhood or the most distant corners of the universe, we use stars as our beacons. The universe is mostly made of dark energy, and galaxies and clusters mostly of dark matter. But it is stars like our sun that trace them all.  Stars are not eternal balls of gas churning out energy from their nuclear furnaces. They are born, they live, and they die. The birth of stars is particularly important as it can be traced back to the birth and evolution of galaxies across cosmic times. Professor Daniela Calzetti will review progress over the past decade in understanding how stars form out of the gas clouds that pervade galaxies, and how this has helped with furthering our understanding of the universe. Space missions, as well as advanced ground-based telescopes, have played key roles in advancing our knowledge. With many challenges still ahead of us, the way forward will require innovative thinking for the future missions and facilities that will enable humanity one day to say, "We know where we came from."
Distinguished Faculty Lectures 2019
Professor Carol E. Heim
Who Pays, Who Benefits, Who Decides? Property Developers and the Political Economy of Urban Growth
March 27, 2019
Property developers reap a return sometimes called "development gain," which is over and above the ordinary rate of profit. They often use legal and political means to increase their share of economic value created through urban development. Their interests are sometimes, but not always, in alignment with the public good. Historical research on the boom cities of Chicago and Phoenix, particularly concerning infrastructure finance, illustrates their goals and activities. Examination of current policy issues in cities such as Houston and Miami, which are facing severe impacts of natural disasters and climate change, also provides opportunities to explore the role of developers in U.S. cities and suburbs.
Shlomo Zilberstein
College of Information and Computer Sciences
AI Will Change Everything, But Not So Fast
April 18, 2019
The field of artificial intelligence (AI) is experiencing a golden age. Scientific breakthroughs and game-changing technologies are rapidly altering the way we live, work, communicate, and entertain. Investment in AI is booming. Meanwhile, success stories and inevitable failures fuel speculations about the aggregate impact of AI on society. In this talk, I give a historical perspective on the development of AI, including the pattern of research leaps followed by exaggerated expectations. With today's best AI methods, it is easy to create a grandmaster chess player, but replicating the common sense of a three-year-old child remains elusive. I will examine these challenges using insights from my research on automated reasoning, autonomous driving, and human-in-the-loop AI. The ability to sustain progress and responsibly deploy AI technology depends on a far better understanding of how humans use common sense to handle ordinary situations that they encounter every day.
Distinguished Faculty Lectures 2018
Professor Samuel Black
Department of Veterinary and Animal Sciences
Approaching the End Game: Seeking Sustainable Control of Animal African Trypanosomiasis
February 5, 2018
For more than a century, scientists have attempted to sustainably control animal African trypanosomiasis—protozoan parasites that can be fatal to people and domestic livestock. The development of effective vaccines has been blocked by the parasites' ability to vary the surface structures with which the immune system reacts and to mask the conserved surface components the parasites need to acquire nutrients. At UMass Amherst and elsewhere, research is unlocking the mechanisms of innate immune control and trypanosomiasis pathology, giving new hope of developing trypanosomiasis-resistant cattle through selective breeding and genetic engineering.
Professor Maria Santore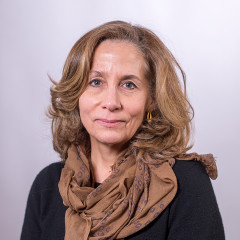 Department of Polymer Science and Engineering
From the Surfaces of Cells to Materials Innovation: Synthetic Systems that Mimic the Behaviors of Biological Cells
March 6, 2018
When cells contact other cells or foreign objects, their responses can determine an organism's survival. For example, reactions triggered at the surfaces of white blood cells amplify to produce organism scale behaviors, such as fighting infection or developing immunity.
Synthetic systems from the Santore lab recreate biological mechanisms that start at the surface and become large scale—examples will include materials that selectively scavenge, capture, kill, or release targets in response to chemical and mechanical cues; control particle movement on surfaces; and assemble into molecularly thin force-responsive reconfigurable circuitry. These systems may ultimately facilitate biomedical devices, sensors, and protective gear or materials for energy harvesting.
Capital Flight From Africa: Is the World Genuinely Ready for Action?
April 9, 2018

Domestic and global structural factors have caused a sustained outflow of capital from Africa, a continent that faces deep development financing constraints. This lecture will explain how capital flight is part of a pattern of integration of Africa into the global economy that has entrenched the continent's exploitation and marginalization. It will also show how structural flaws in the global economic system and its governance make it difficult to combat capital flight and illicit financial flows from Africa and propose new ways to address these problems.
Distinguished Faculty Lectures 2017
Professor Donald Fisher
The Eyes Have It: A Window into the Mind.
A common thread links long-standing questions in cognitive science, gerontology, transportation, and health care. Cognitive scientists want to know whether we really need to put aside our cell phones while driving.
Professor Duncan Irschick
Bioinspiration and Life in 3-D.
Nature-inspired solutions are being discovered for some of the most intransigent problems that society faces, such as potential cures for cancer from animal and plants, novel antibiotics, and gecko-inspired adhesives.
Professor Christian Appy
The Atomic Origins of America's National Security State: How Nuclear Weapons Produced an Imperial Presidency and Degraded Democracy.
From the Manhattan Project to the Global War on Terror, nuclear weapons have had a pernicious impact on American political culture.
Professor David Reckhow
Drinking Water in Crisis: Lead, Lignin, and Legionella.
As events continue to unfold in Flint, Michigan, the nation is more than ever focused on the quality of its drinking water.
Professor Nilanjana Dasgupta
STEMing the Tide: How Female Professors and Peers Can Encourage Young Women in Science, Technology, Engineering and Mathematics.
The choice to pursue a given professional path may feel free but is often constrained by subtle social cues about who does and doesn't "belong there."