UMass Amherst Libraries "Shave the Date" Fundraiser for Student Care and Emergency Response Fund a Success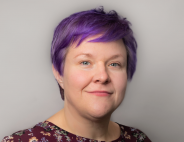 The UMass Amherst Libraries recently raised more than $5,300 for the campus's Student Care and Emergency Response Fund (SCERF) with a unique campaign featuring Annette Vadnais, student success and outreach librarian.
A first-generation, low-income UMass Amherst alumna, Vadnais wanted to do something to help support students during this challenging time. With full and enthusiastic support from the Libraries, she developed an online campaign for SCERF, announcing that if $5,000 could be raised by Monday, April 13, she would go live on the Libraries' Facebook page and shave her purple hair that has made her an instantly recognizable and popular campus icon. That goal was met well before the end of the week-long campaign, and more than one hundred viewers tuned in on Tuesday, April 14 to watch her Facebook Live broadcast.
"I was so happy to see that I not only reached my goal but surpassed it, raising money for students in need," Vadnais says. "It was touching to see a lot of people I know—and many I don't—donating and promoting our efforts."
Even though financial aid covers most tuition expenses, SCERF helps cover the cost of other personal essentials for students, including food, housing, medical and health needs, and childcare.
"Though SCERF is in operation year-round supplying undergraduate students in need with micro-grants, the existence of this fund is more important now than ever," says Charity O'Connor, student support coordinator. "We know that during a 'normal' school year, countless numbers of students experience food, financial, and housing insecurity. What may seem like 'small' financial hardships to some have the power to derail a student's plans and in some cases, could be the difference between being able to graduate or not. The fallout of COVID-19 has exacerbated already tenuous financial circumstances for many students and their families, so having these additional funds to be able to grant students is paramount. It also speaks volumes about our community's dedication to showing up for one another. We have enough resources within our community; it's just a matter of redistributing them to support those most in need. We are grateful for the way the Libraries and the UMass Amherst community has stepped up to the plate during such a critical moment and look forward to a continued partnership to meet the need."