Academics
Faculty Colleagues Reconnect and Engage for Mutual Mentoring
This fall, faculty recipients of the Office of Faculty Development's Mutual Mentoring Awards were delighted to gather in person to resume projects that were put on hold due to the pandemic.  
Each year, the Mutual Mentoring Awards program provides funding to individual faculty or groups of faculty who have proposed projects to further develop their mentoring networks. Although 22 projects were awarded grants in the past two years, planned mentoring activities were stalled due to COVID-19 restrictions.
Here are updates from two mutual mentoring teams that recently shared news of their progress:
The goals of the "Winds of Change" project, awarded in 2020, included commissioning new pieces of wind chamber music, performing concerts on campus each semester, and developing the UMass chamber music program.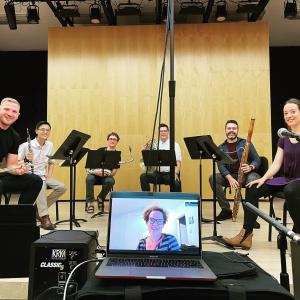 "Our mentoring grant gave our academic area a focus during remote teaching, such that we remained engaged with our work, and on building toward a future that is now here," shared Jonathan Hulting-Cohen, team leader and associate professor of saxophone in the department of music and dance. He noted that the experience positively impacted the group dynamics of the faculty research team. "We deepened our interpersonal and collegial relationships," said Hulting-Cohen, who is looking forward to continuing live performances this year.
On September 4, the project's chamber music group Bandwidth! performed new pieces supported by the award for the first time at Bezanson Recital Hall. A full recording of the livestreamed performance is available.  
Another Mutual Mentoring project to receive funding in 2020 was "The Glass Half Full," a group of women full professors from ten disciplinary areas and four colleges who proposed to meet monthly for support as they move into the next phase of their careers. Their meetings were delayed as the challenges and distractions of the pandemic demanded they focus on other priorities as UMass leaders.
The group is thrilled to have been able to begin their in-person meetings. Team leaders Mari Castañeda, dean of the Commonwealth Honors College and professor of communication, and Jennifer Lundquist, professor and senior associate dean of research and faculty development in the College of Social and Behavioral Sciences, returned to their vision of "sharing lessons learned" among women leaders.
"The thing that most excites us about our Mutual Mentoring project is the community building and mutual learning that is taking place within the group," said Castañeda. "There are very few academic spaces in which we can speak freely and honestly about our career goals and concerns, so to be able to do so in such a supportive group of full professor women is allowing each of us to truly think through what we would like to see in the future for our lives and careers."
According to Lundquist, "There is a lot of laughter and camaraderie at these gatherings, as well as some serious career mentorship as we each share our five-year plans with one another. I am continuously blown away by the accomplishments of these special women--and so appreciative of this space where we can share our vulnerabilities, struggles and aspirations."
The project is not only having a positive impact on the career trajectory of these team members, but will extend mentoring benefits to aspiring women faculty at UMass.
Faculty are encouraged to consider how a Mutual Mentoring Award may support career goals. Contact Wendy Varner to discuss ideas and learn more or go to the OFD website. Applications will be available in January 2022 and due in February.