Academics
Berthiaume's Minute Pitch Kicks Off 2021 Innovation and Entrepreneurship Academy Competitions
On Wedneday, Oct. 6, 20 teams competed in the first pitch competition of the academic year. The Berthiaume Center for Entrepreneurship's Minute Pitch event, which took place in the university's Old Chapel, was the first pitch competition to be held in person since the COVID-19 pandemic began in early 2020.
"It was such a joy to have our student teams presenting and competing in person again after such a long stretch of virtual events," says Gregory Thomas, Berthiaume's executive director and a lecturer at Isenberg. "The collisions and collaborations that can come from chatting with other entrepreneurial people can't be replicated online."
The Minute Pitch is the Berthiaume Center's first formal competition of the 2021-22 academic year, and it starts the cycle of the Innovation and Entrepreneurship Academy—a series of five events with varying rules and prizes. Winners of the first four events—including the Minute Pitch, the Executive Pitch, the Tech Challenge, and the Social Entrepreneurship Challenge—sharpen their venture ideas and presentation skills with the goal of competing in the preliminary round of the spring semester's culminating event, the Innovation Challenge. Teams can potentially win tens of thousands of dollars of equity-free funding for their startups during the Innovation Challenge's Final competition.
Winners of the Minute Pitch are:
First place ($1,000) and audience choice winner ($250): MicrobeBlaster is a product to eliminate catheter-borne bacterial infections in hospitals without the use of antibiotic drugs. The team consists of Phoebe Lasic-Ellis '23 (bachelor's degree with individual concentration), Sarah Kaunfer '22 (microbiology), Hayley McIsaac '23 (biochemistry and molecular biology), and Simran Jeet '22 (biology).
Image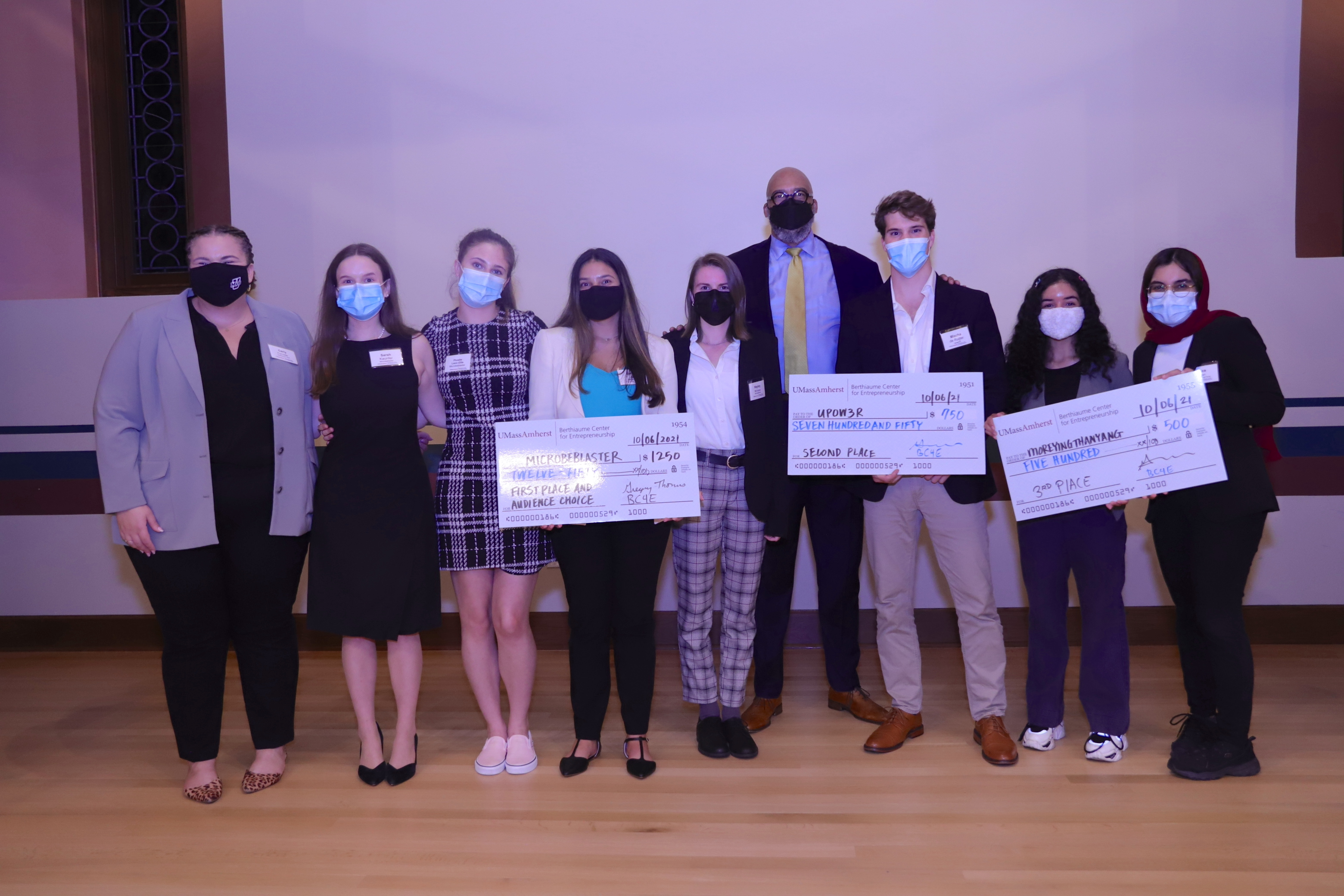 Second place ($750): UPow3r aims to use the human body to make electrical power. The team consists of Mischa deRuijter '22, Gabe Nadelstein '22, Tom Mazeika '22, Cameron Greiner '22 (all mechanical engineering majors).
Third place ($500): MoreYinThanYang supports the idea that contrasting parts of one's identity can peacefully coexist. The team consists of Faiza Khan '24 and Samar Haque '24 (both marketing majors in Isenberg).
Fourth place: FUD aims to increase restaurant revenue by maximizing table turnover, thereby allowing customers to avoid unnecessary wait times. The team consists of JB Goriou '21 (marketing and legal studies) and Chris Herndon (College of the Holy Cross '22, biology major).