Executive Committee
Office Hours:
M 11-2, W 12-3
Toby is a senior pursuing a double major in Operations Information Management and English. As general manager, he aims to give you a space where your voice will be heard. Toby has been a member of WMUA since his first semester freshman year and hosts his own show "The Next Level" which features video game music and Dungeons & Dragons! If he's not in the office, he's probably playing video games, eating, sleeping, or still playing video games. Please feel free to reach out to Toby through email. 
Office Hours:
M/W 9-4, F 9-12
Dan takes care of the in-studio audio, computer, automation systems and transmitter sites.  He was a finalist in the 2018 Intercollegiate Broadcasting System's Tom Gibson Award for outstanding engineering. He has been with WMUA since June, 1989.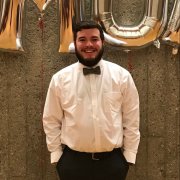 Carson joined WMUA in 2017. Previously, he served as general manager of WUEV-FM (University of Evansville) and KCOU-FM (University of Missouri). He can be reached about general station questions, comments or concerns. When he isn't at WUMA, Carson is likely watching the Chicago Cubs or Chicago Bears, catching up on a podcast or playing Nintendo 64. He can be reached at (413) 800-4826.
Office Hours:
M 4-6, T/TH 12:30-2:30, F 12:15-1:15
Taylor is a senior double-majoring in Classics and Psychology, and this is her third year working at WMUA. She is in charge of all on-air content including fielding show applications and creating each semester's programming schedule. You can listen to her show, Super Rich Kids, on WMUA from 6pm-8pm PM on Tuesdays. When she isn't at work, she can be found cowering under a desk on the sixth floor of DuBois.
Department Directors
Office Hours:
M 10-12, Th 4-5, F 2:30-4:30
Alex is a senior at UMass studying Communications and English. This is their third year being involved with WMUA and their first as Communications Music Director! Alex reviews CD and digital music submissions sent to the music email, files weekly NACC charts, updates automation, and manages the WMUA blog, among other things. Drop them a line if you've got a music submission or want to get involved with the music department! When not in class or the WMUA office, Alex is likely trying to write music, walking around outside, or playing a video game.
Office Hours:
T 11:30-12:30, F 11:30-1:30
Eleanor is a sophomore majoring in BDIC for Activist Filmmaking and minoring in Japanese. As event director she books WMUA events and shows featuring local and touring artists. She is the president of Students for Alternative Music (SALT), where she and others book DIY shows on the UMass campus. Eleanor also works at the Student Union Craft Center as the bookmaking coordinator. She became a member of WMUA in the fall of her freshman year and has a show last spring. Come to Eleanor's office hours or email her if you have questions about anything!
Ayelet is studying Journalism in her third year at UMass. While her current role at WMUA keeps her behind the scenes of news, in the past she's hosted an oldies music show and a talk show. When she's not hanging out at the radio, you can find Ayelet watching food documentaries, tending to her garden, jamming out to live music, and interviewing real human beings! If you want to get involved with the news program, pitch a story, or just share a funny joke, drop by the station or send Ayelet an email at newsed@wmua.org.
Phillip is a senior Journalism and Political Science double major dedicated to making crazy radio noise until someone stops him. He's helped run the news program since 2017, and in turn has developed more and more radical broadcasting sensibilities, inspired by wild 1970's broadcasters like Hildergard Westerkamp and Jim Metzner. If you are interested in telling stories and making noise, let him know at his office hours or by email. This semester's motto is "go hogwild".
Office Hours:
T 12-2, TH 12:30-2
Elizabeth is a junior currently double majoring in Resource Economics and Communications. As Production and Training Director, Elizabeth oversees production of underwriting, PSAs, and promos, and organizes and oversees training for new DJs. If you are interested in becoming a DJ at WMUA, have an audio segment you'd like to produce, or would like to get involved with production, feel free to send her an email!
Office Hours:
M 4-6, W 10-12
Colin is a senior majoring in Communication and Sport Management. Since freshman year Colin has been contributing to the Sports Department as both a broadcaster for UMass Athletics and weekday radio show host. As director Colin now oversees all sports content production for WMUA. If you're interested in sports and are curious as to how you could contribute to WMUA, feel free to reach out to Colin!
Office Hours:
T 1-3, TH 2:30-3:30
Sabrina is a senior English major with an IT minor and has been a part of the WMUA community since the spring of her freshman year. As tech director, she is responsible for all non-broadcasting equipment, as well as making sure the station's website is running smoothly and that any bugs are quickly resolved. When she is not running the website, she is likely making incredibly specific playlists, biking, or playing her Nintendo Switch. If you would like to rent equipment for an event or suggest something you'd like to see on the website, feel free to contact Sabrina through email or visit her office hours.
Office Hours:
M 2-3, TH 3-4
Ariya is a senior Communications major with a Chinese minor. She runs WMUA's social media and oversees the station's public relations. She loves making graphics, digital art, and visual media -- anything posted on WMUA's socials are made by her!  Ariya has been part of WMUA since her freshman year and has been involved as a DJ since her sophomore year. When she's not online, she's probably spinning some dream pop on the airwaves (Thursdays from 6-8 pm!) or fiending the Campus Center for anything caffeinated. 
Office Hours:
M 3-5, TH 1:30-2:30
John is a sophomore Operations and Information Management major at UMass. As Finance Director, he seeks corporate partnerships with local businesses and organizes further fundraising opportunities for the station. John has been a part of WMUA since he started co-hosting a show called "Downtown" with a couple of friends his freshman year. If you need help in any way you can reach out to him on email.
Jamie is a senior double major in English and Communications, with a specialization in creative writing. They oversee our physical and digital media libraries, helping manage submissions, and catalogue our music. If you want to learn about our music collection, or assist in cataloguing our music, please email musiclib@wmua.org.
Office Hours:
T 11:30-12:30, TH 3:30-5:30
Born and raised in NJ, Justin Maccagnan has always been one to not stray away from the spotlight. Whether it is broadcasting sporting events or working as president of his fraternity, Zeta Beta Tau, Justin has always brought attention to himself. He served as the lead broadcaster of UMass hockey last year and it was an experience he will never forget. As he put it, "There are few college students who can say they broadcasted a national championship in any sport while in college and I am very proud to say that I am one of those few." As sports operator for WMUA, he intends to help diversify the relationship between UMass Athletics and the station as well as enhance revenue options for the station. The more money, the more opportunities WMUA can have to expand their voice. You can contact him via email at sportsop@wmua.org.