Executive Committee
Office Hours:
M/W 9:30-11:30, 2:30-5:30, T/TH 12-2, F 10-12
     Born and raised in New Jersey, Justin went to UMass to experience the New England area. A senior at UMass, he collects comic books and sports memorabilia in his spare time. He's been a part of WMUA for the past four years, working in the sports department as well as the sales/finance department. He also has jobs working for UMass Athletics and the Daily Hampshire Gazette. He hopes that there will be some semblance of normalcy during the spring semester but he hopes to meet everyone virtually!! 
Office Hours:
M/W 9-4, F 9-12
Dan takes care of the in-studio audio, computer, automation systems and transmitter sites.  He was a finalist in the 2018 Intercollegiate Broadcasting System's Tom Gibson Award for outstanding engineering. He has been with WMUA since June, 1989.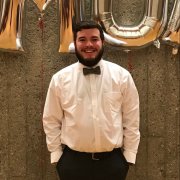 Carson joined WMUA in 2017. Previously, he served as general manager of WUEV-FM (University of Evansville) and KCOU-FM (University of Missouri). He can be reached about general station questions, comments or concerns. When he isn't at WUMA, Carson is likely watching the Chicago Cubs or Chicago Bears, catching up on a podcast or playing Nintendo 64. He can be reached at (413) 800-4826.
Office Hours:
M 9-12, TH 4-5, F 9-2, by appointment
Nina is a junior double majoring in studio art and comparative literature. This is her first position on staff, having previously served two years whipping up PSAs with the production committee. She is in charge of all on-air programming, and aims to keep it rich and diverse. When not at work, she is probably doing some art, for school or for fun. Nina is ridiculously available by email and may be reached this way any time. 
Department Directors
Office Hours:
M 11:15-1:15, T 10-12
Zoe is a Junior from Pasadena, CA studying Communication with a minor in Information Technology and pursuing a certificate in Sustainable Food and Farming. She has been part of WMUA since her freshman year and hosted her show, Earworms and Worms and Worms, ever since. When she is not in the studio, she loves to cook, watch reality TV, and hike with friends. If you are interested in getting involved with the music department, writing for the blog, or just talking about your favorite music, please feel free to reach out to her by email. 
Office Hours:
T 11:30-12:30, F 11:30-1:30
Eleanor is a sophomore majoring in BDIC for Activist Filmmaking and minoring in Japanese. As event director she books WMUA events and shows featuring local and touring artists. She is the president of Students for Alternative Music (SALT), where she and others book DIY shows on the UMass campus. Eleanor also works at the Student Union Craft Center as the bookmaking coordinator. She became a member of WMUA in the fall of her freshman year and has a show last spring. Come to Eleanor's office hours or email her if you have questions about anything!
Bonnie Chen is a senior studying Journalism and Middle Eastern Studies and is from Queens, NY. She is really excited to be this year's News Editor and about the new platform of news and long-form audio podcasting that the News section is pursuing this semester. She wants to welcome anyone who is interested in audio storytelling and broadcasting news.
Office Hours:
M/W 11:30 - 2:00
Andy is a junior Political Science and History double major from Providence, Rhode Island. He's a big baseball fan, an amateur photographer, and a total news junkie. Andy has been a part of WMUA since last year, recording cool sounds, reporting on campus news, and impressing people with his awesome radio voice. If you are interested in telling stories and making noise, let him know by email.
Office Hours:
M 4-6, W 4-6
Colin is a senior at UMass majoring in both communication and sports journalism. As Sports Producer, he and Cam Sibert are in charge of WMUA Sports, which covers UMass Athletics for the station. Colin's main area of focus is hockey, but he also helps out with covering other sports for the station. For those interested in broadcasting sports for WMUA, feel free to send him an email anytime!
Office Hours:
T&TH 4-6:30
Judge is a Computer Science major who studies languages and linguistics as well. During this remote semester he is the home-recording IT guy and will answer any and all questions you may have. Judge loves music you can dance to, video games with heart, weather that is warm and shorts that are short.
Melissa is a senior Communication major with an art minor from Ridgewood, NJ. As PR director she manages WMUA's social media accounts and makes graphics for WMUA events. She has been a part of WMUA since her sophomore year and co hosts the show "Femme FM" (Fridays 6-8pm). When she is not running our social media, you can find her rowing on the Connecticut river in the mornings because she is also a member of the UMass Women's Rowing team! 
John is a junior Accounting and English double major at UMass. As Finance Director, he seeks corporate partnerships with local businesses and organizes further fundraising opportunities for the station. John has been a part of WMUA since he started co-hosting a show called "Downtown" with a couple of friends his freshman year. If you need help in any way you can reach out to him on email.
Armand is a junior studying Natural Resource Conservation with a concentration in Forest Ecology. As the Archival Music Director, Armand manages and catalogs the station's physical and digital libraries, and is in charge of updating automation. He has been a member of WMUA since his freshman year and is very excited to work with the station and play some awesome tunes! If you have any questions about automation or music submissions please feel free to email him.
Office Hours:
T/TH 10:30-1
Cameron is a senior Sports Journalism major who has been involved at WMUA since his sophomore year. WMUA has provided him with a vast amount of experience in the world of sports media. He believes by broadcasting games, producing multimedia content and running various sports talk radio shows, you too can be provided with the tools to work at the next level. Along with learning the tools of the trade, WMUA offers the opportunity to become a part of an amazing community of people from different backgrounds, but who share similar interests. He hope you will join us as we continue our mission of entertaining and informing UMass sports fans locally and abroad.