Executive Committee
Office Hours:
M 4-6, Tu/Th 2:30-5:30
Annie Dooley oversees the daily operations of the station. She is a senior Communications and English major, hoping to move forward to a career in broadcasting. Annie has been involved with WMUA since her freshman year, and will gladly make appointments with those interested in joining the station, getting more involved, or those with general questions and concerns.
Misha is a junior Sustainable Food and Farming major who has been involved at WMUA for three semesters, both as a DJ and on staff, and loves everything about it. Feel free to contact programmer@wmua.org if you have any questions about on-air broadcast operations, station-produced content, or getting involved - or if you just wanna chat!
Office Hours:
M/W 9-4, F 9-12
Dan takes care of the in-studio audio, computer, and automation systems and keeps the transmitter running through rain, sleet, dark of night, and angry pigeons.
Department Directors
Office Hours:
Tu 12-2, W 3-5
Kara is a senior Communications major/ IT minor. She handles everything music related including music submissions, artist interviews and music outreach. If you're interested in submitting music for review, please include streaming links in submission emails versus downloadable files.
Office Hours:
By Appointment
Josh is a Junior Sport Management Major in the Isenberg School of Management. At the station, he actively looks for corporate partnerships with businesses in the surrounding areas, as well as finding ways to help local businesses promote themselves. He is also a member of the WMUA Sports Team. Away from the station, he enjoys spending time outdoors, Netflix, and finding new ways to avoid doing homework.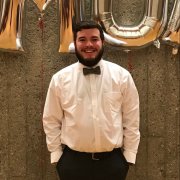 Carson is a junior Hospitality & Tourism Management major and this is her second year with the station. Carson is so excited to take on this role at the station and help make all of WMUA's events exciting and successful this year. If you are interested in having WMUA DJ or table at your event, please feel free to email her or stop in the office during her office hours.
Office Hours:
Tu/Th 4-5 & by appointment
Lucy joined WMUA for its news team her first year at UMass. When she's not scrambling to make sure News sounds good on air, she hosts her French/Russian DJ show called Chère Sputnik. She's a junior studying Journalism, French and Slavic Eastern European Studies. She'll prioritize anyone anywhere interested in pitching a story for WMUA News.
Office Hours:
M/W 4-5, by appointment
Katie Donegan is a senior Communication and Journalism double major from Plymouth, Massachusetts. She'll encourage anyone she meets to join the WMUA News team, which has been a formative experience for her since she joined in September. She is in charge of scheduling and operations. She can be reached via email or at her office hours with any questions.
Office Hours:
F 12-2 & by appointment
Michael is a senior Communication and IT student who joined WMUA after transferring to UMass in the fall of 2014. He has produced a hip hop and alternative music program called "Good Kid, s.A.A.d. City," and occasionally reads with WMUA news. If you are interested in becoming a DJ, want to learn more about how to get involved, or are interested in producing any sort of audio segment (PSA, podcast, internal promotion) at WMUA, please send him an email.
Office Hours:
M 1-3, Tu/Th 2:30-3:30
Kevin Chambers is sophomore Political Science and Economics major here at UMass Amherst. He hails from Westfield, Massachusetts and is a longtime resident of the Pioneer Valley. This is Kevin's third semester with WMUA Sports and his first as Director of Sports Production. At WMUA Sports, Kevin is mostly in charge of scheduling and if there any issues or questions with DJ pre-emptions or games, he's the guy to contact. Besides administrative duties, Kevin is usually on the call for most Men's Lacrosse broadcasts, but will occasionally be heard chiming in on Football, Men and Women's Basketball, Men's Ice Hockey, and Baseball broadcasts and the occasional guest spot on the WMUA Sports Block, every day from 11:00am-11:30am. When he's not Denny's or in the WMUA Newsroom, he enjoys biking, hiking and waterskiing as well.
Alex Levitt is in his second year with WMUA Sports, where he has served as Operations Director since May 2015. Levitt took an interest broadcasting sports at a young age, and called high school games in southeastern Massachusetts from 2010–2014. He also worked games for the 2013 Babe Ruth Baseball regional championship. At WMUA Sports, Levitt primarily calls football and women's basketball games, though he can occasionally be heard on WMUA's other sports broadcasts, including baseball, men's basketball, hockey and lacrosse. Levitt also hosts the weekly "Sports Line" program, providing a mid-week sports wrap-up.
Office Hours:
By Appointment
Matthew is a senior computer science major. He has been with the station since freshman year primarily helping with the audio for concerts. As tech director he is responsible for all the non broadcast equipment in the station, the website and other online services used by WMUA.
Office Hours:
By Appointment
Adam is a Computer Science and Mathematics major.  Adam makes sure the station's website is running smoothly and its bugs are quickly exterminated. If you're interested in anything about the station's website, feel free to contact Adam through email.