Executive Committee
Office Hours:
M 5:30-6, T 1:30-4, F 2-3, by appointment
Andrew Cunningham is pursuing a dual major in computer science and computational linguistics. WMUA was Andrew's first RSO in his freshman year, loving the community, the art, and having a place for his voice. He now hosts a radio show called a talk/improv show called "Grab a Mug." Andrew also performs sketch comedy with Sketch 22 and finds few things to be better than the sound of laughter. As general manager, he aims to give you a space where your voice will be heard.
Office Hours:
M/W 9-4, F 9-12
Dan takes care of the in-studio audio, computer, automation systems and transmitter sites.  He was a finalist in the 2018 Intercollegiate Broadcasting System's Tom Gibson Award for outstanding engineering. He has been with WMUA since June, 1989.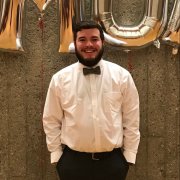 Carson joined WMUA in 2017. Previously, he served as general manager of WUEV-FM (University of Evansville) and KCOU-FM (University of Missouri). He can be reached about general station questions, comments or concerns. When he isn't at WUMA, Carson is likely watching the Chicago Cubs or Chicago Bears, catching up on a podcast or playing Nintendo 64. He can be reached at (413) 800-4826.
Office Hours:
M 3-6, W 2-5, Th 1-2
Taylor is a junior double-majoring in Classics and Psychology. She is in charge of all on-air content including fielding show applications and creating each semester's programming schedule. You can listen to her show, Super Rich Kids, on WMUA from 2:30-4:30 PM on Wednesdays. When she isn't at work, she can be found hanging out at her apartment and drinking too much coffee, or playing with her puppy.
Department Directors
Office Hours:
M 10-12, Th 4-5, F 2:30-4:30
Hayden is a senior Communications major at UMass. This is his second year as Music Director and his third at WMUA! Please forward all digital submissions, review inquiries, or tracking questions to music@wmua.org; streaming links for submissions are preferred but not required. Please drop a line at the same email if you're interested in getting involved with the music department, have any general questions regarding the station, or just wanna chat about tunes!
Judge Russell is currently spending his life studying computer science, writing songs, and booking concerts. He has a show called "Phone Wallet Keys" with Edan Kamara, where they play art/indie pop  & whatever else. When not at WMUA he is booking concerts and running social media for the Flywheel Arts Collective, working IT, or spending time with all the wonderful people in his life!  If you're interested in setting up an event with WMUA, shoot him an email at events@wmua.org.
Office Hours:
T 3-6, F 2-4
Liz is a sophomore art history and journalism double major who loves podcasts more than your average human. She enjoys reading a good book (if you have any recommendations, send them her way!) and perusing all sorts of museums. She likes to get to the bottom of unanswered questions and has a passion for true crime. If you have any stories to tell or pressing questions to be answered, let her know! 
Phillip Bishop is a sophomore Political Science and Journalism double major from Kingston, Massachusetts. After having a blast his freshman year in WMUA's News program, he was fortunate enough to be hired as the News Operator. He's eternally grateful for the opportunity and super excited to expand the reach of the program and help people find their passion in News. Phillip is available during his office hours to discuss the program and how to contribute, chit chat about politics and current affairs, or just talk about board games if you want.
Office Hours:
M 11:15-1 F 12:30-2:30
Elizabeth is a sophomore currently double majoring in Resource Economics and Communications. As production and training director she will oversee production of overwriting, PSAs, and promos, and will organize and oversee training for new DJs. If you are interested in becoming a DJ at WMUA, have an audio segment you'd like to produce, or would like to get involved with production, feel free to send her an email!
Colin is a junior majoring in Communication and Sport Management. Since freshman year Colin has been contributing to the Sports Department as both a broadcaster for UMass Athletics and weekday radio show host. As director Colin now oversees all sports content production for WMUA. If you're interested in sports and are curious as to how you could contribute to WMUA, feel free to reach out to Colin!
Colette is a sophomore majoring in computer science.  She found WMUA through her interest in music and audio engineering.  As tech director, she is responsible for all non-broadcasting equipment and hopes to broaden the scope of exactly how technology is used at the station and on campus.  If you would like to use some equipment for an event, please reach out to her at tech@wmua.org.
Office Hours:
M/W 12:15-2:15 pm
Sabrina is an English major with a Technical Communications specialization and IT minor, and has been a part of the WMUA community since the spring of her freshmen year. As web developer, she makes sure the station's website is running smoothly and that any bugs are quickly resolved. When she is not running the website, she is likely making weirdly-specific playlists for her radio show, photographing, or playing her Nintendo Switch. If you are interested in anything about the station's webpage, or just want to learn the basics of HTML/CSS code, feel free to contact Sabrina through email or visit her office hours. 
Ariya is a junior Communications major. She runs WMUA's social media and oversees the station's public relations. She also likes to create content for the station to spice things up on social media, such as graphics and other visual media! Ariya has been part of WMUA since her freshman year and has been involved as a DJ since her sophomore year. When she's not online, she's probably spinning some dream pop on the airwaves or fiending the Campus Center for anything caffeinated. 
Toby is a junior pursuing a double major in Operations Information Management and English. At the station he seeks corporate partnerships with local businesses and organizes further fundraising opportunities. Toby has been a member of WMUA since his first semester freshman year and hosts his own show "The Next Level" which features video game music and Dungeons & Dragons! If he's not in the office, he's probably playing video games, eating, sleeping, or still playing video games. Please feel free to reach out to Toby through email.