The Woeste Hoeve Ecoduct, The Netherlands
(Photo: Pandion)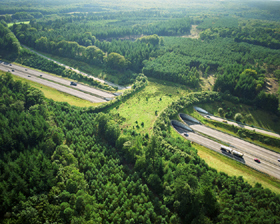 Project Summary
An interdisciplinary team of UMass Amherst Faculty and graduate students studied the feasibility of a combined pedestrian and wildlife crossing highway overpass for Route 2 in Concord, Massachusetts. The study started in August 2006 and was completed in December 2007. A PDF of the report and maps can be downloaded here (see sidebar).
Major highways with high traffic volumes, such as Massachusetts Route 2 represent a significant barrier for wildlife. The loss of habitat connectivity caused by roads and associated residential and commercial development disrupts the natural movement of wildlife and causes physical isolation and increased wildlife mortality. In order to mitigate the effect of major highways on wildlife, ecologists, landscape architects, and engineers have joined together in projects across the United States and Europe to help wildlife gain safe passage across roads.
Habitat connectivity is not only important for wildlife-it is also important for humans who benefit from the opportunity to travel through a series of connected and protected "green" spaces. Unlike the recently installed Route 2 wildlife underpasses, this study will examine a wildlife passage structure that crosses over the road, accommodating both humans and wildlife. The possible siting of a wildlife/human passage in the study area has cultural as well as ecological significance. Thousands of people visit the area annually to see and learn about Henry David Thoreau, and to hike the Bay Circuit trail. Thus, this project has the real potential for regional, national and international recognition.
In 2004, the Federal Highway Administration (FHWA) awarded a Transportation, Community and System Preservation Program (TCSP) grant to fund a feasibility study of a highway overpass for pedestrians and wildlife crossing Route 2 in Concord, Massachusetts. The project was initially proposed by the Walden Woods Project and is currently being managed by the Metropolitan Area Planning Council (MAPC), the Regional Planning Council for the Boston Metropolitan region. The MAPC contracted with an interdisciplinary team of UMass Amherst faculty and graduate research assistants to examine the feasibility of establishing a wildlife and recreation overpass.
Comments regarding the final report can be submitted to Dr. Jack Ahern at jfa@larp.umass.edu, or mail to Dr. Jack Ahern, University of Massachusetts, 109 Hills North, Amherst, MA 01003.