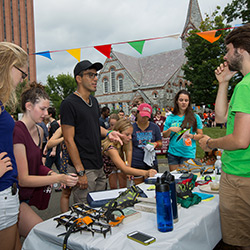 So much to do!  Student activities at UMass Amherst encompass a wide range of clubs, organizations, leadership opportunities, sports and activities. Whatever your interest is, you're sure to find a group to connect with. Don't wait, just dive in and get involved - it's your time to explore.
Grant Program for RSOs and GSOs
Student Engagement and the International Programs Office are pleased to announce a co-sponsored grant program "Welcoming the World to Amherst" that is intended to inspire and support new, innovative co-curricular programming to promote strong, deep and meaningful engagements and interactions among domestic and international students.
The grant program is offered to Registered Student Organizations (RSOs) and Graduate Student Organizations (GSOs) and is intended to support programs that foster collaborations among international and domestic students. Read more...