Hanne M. Watkins joins Peace Program
We welcome Hannah M. Watkins to the Peace program as a Post Doctoral Fellow in Fall, 2018
Hanne M. Watkins holds a BA (Hons.) in Psychology and Linguistics, and a Master's degree in Clinical Psychology from the University of Melbourne, in Australia. She also completed her Ph.D. in Social Psychology at the University of Melbourne, in 2016. Her main research interests are moral psychology, intergroup conflict, and philosophical "just war theory," which is why her thesis was on how people make moral judgments about killing in war.
Topol Summit brings together nonviolence scholars, practitioners and students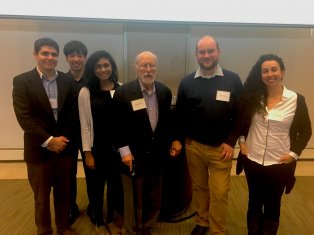 For the sixty scholars, practitioners, and students who gathered for the 2017 Topol Summit on Transforming the Research and Practice of Nonviolent Activism, the day was an opportunity to share ideas and inspiration across fields—and to strategize about how to use their individual perspectives and expertise to find new, creative approaches to conflict resolution.