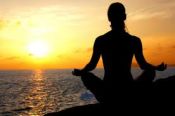 Meditation (and other meditative activities such as yoga) can help reduce stress, improve concentration, and enable us to better understand and control our thoughts and feelings. It can also be part of spiritual practice such as Buddhism. The programs we offer do not require any particular experience or beliefs and are merely intended to provide interested students with an opportunity to learn about or practice meditation, in a comfortable and non-denominational setting.

Why meditate? According to the Chronicle of Higher Education, "people who meditate and focus on breathing are better able to concentrate and focus on their immediate tasks." In other words, you'll do better in school, in work, and in life!!
WEEKLY MEDITATION GROUPS
During the academic year, there are guided meditations every Tuesday and Wednesday from 5:30-6:30 pm in the Campus Center (check the list posted near the elevators for room number)

Nondenominational, student-led meditation groups meet weekly at UMass Amherst while the university is in session. Everyone is welcome. Come regularly or drop in whenever you feel like it … no commitment, and guilt-free! If you're interested in guiding (or learning how to guide), let us know. Join the UMass Amherst meditation group mailing list, subscribe. 
Find more information about meditation, including how to meditate.