Lac repressor bending the DNA operon. More.. (Kalodimos et al./Kaptein, 2004.)
Announcement - One Day Course:
Practical Protein 3D Structure Visualization and Structural Bioinformatics
April 24 (Friday), 2009,
University of Maryland Baltimore County
Departments of
Biological Sciences
and
Chemistry & Biochemistry
.
Engineering Building, Room 022
Laptop computer required: no computers can be provided.**

9:00 - 17:00. Host:
Thomas C. Gluick
.
taught by
Eric Martz
from the University of Massachusetts, Amherst MA USA,
principal author of
FirstGlance in Jmol
,
Protein Explorer
, and
related resources
.
To register for this course, please contact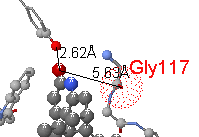 Anti-Alzheimer's drug analog (*) interaction with acetylcholinesterase (1gpk, cf. 1vot: Dvir et al./Sussman, 2002).