Toobers in Science Education: Model Your Favorite Polymer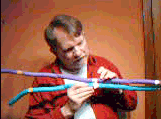 Toobers are inexpensive, easy to bend, foam-covered rods that hold the shapes you give them, over and over again!
They are very useful in illustrating macromolecular structure concepts. Great for all levels of science from K-12 to undergraduate. We feature several examples and also short movies to illustrate their use.
---
Colorful, accurate models featuring embedded magnets
to simulate hydrogen bonding, at varying prices—kits for water, for assembling DNA from nucleotides (image at right), and other molecules. Available for purchase from 3DMolecularDesigns.com; several available to local teachers through the Physical Model Lending Library (Western MA USA only). For information on how high-precision models are made, see the Rapid Prototyping section of History of Visualization of Biological Macromolecules.
---
Physical Model Lending Library (Western MA only)
More than 10 different models are available for short-term loan (about 10 days) to teachers in Western Massachusetts, including:
Anthrax protective antigen heptamer
Antibody bound to lysozyme antigen
DNA double helix
Green fluorescent protein
The nucleosome
Transfer RNA
Water with NaCl, EtOH, Ethane
To reserve models, and for more information, see the Lending Library for Physical Molecular Models for Western Massachusetts, USA.