Help grow the CIE Endowment Fund
CIE Endowment
In 2001 CIE launched a campaign to create an endowment fund to support the activities of the Center.  The fund kicked off with a gathering of CIE members and friends in Washington, D.C. in March of 2001. In the intervening years the fund has grown slowly but steadily.  Income from the Fund is used to help maintain the capacity of CIE to continue providing a place where educational leadership is nurtured.  In recent years the first priority use of the income from the Endowment has been to support an international graduate student who is actively involved with CIE. The income is now large enough to cover the cost of an assistantship for an academic year, as well as supporting other activities..
Current Status of the Endowment Fund Drive
As of June, 2019, the Endowment Fund has a value of approximately $650,000. We are very grateful to the many CIE members and friends who have helped us reach this point. We count on your ongoing support to continue to grow the Endowment to keep up with the costs of supporting an international graduate student. International students, particularly those from developing areas, do not have the resources required to get a visa without an assistantship.  Each year the assistantship supports a student who brings experience and a unique cultural perspective that enriches the CIE community. For profiles of recent recipients see below.
Donate online now with a credit card.
This links you directly to the CIE Endowment Fund.
 
Or make check out to University of Massachusetts and send to:
Center for International Education
College of Education
University of Massachusetts
Amherst, MA 01003 USA
CIE Endowment Fellows
Since its inception a dozen CIE Endowment Fellows have received support from the fund. Profiles of recent recipients are below.  Profiles of earlier Fellows are at  Past CIE Endowment Fellows.(loads a pdf file)
Fall 2020
Larissa Chekmareva is a doctoral student in International Education from Eurasia. She previously earned her M.Ed. from CIE in 2005. She also holds degrees in Physics, Public Administration and International Education. 
Larissa has over 20 years of professional experience in education in Kazakhstan, Central Asia and beyond. Before coming to CIE for her Master's degree, her professional experience was in education, mainly in Kazakhstan. She started out as a school teacher of physics and mathematics, and then became a lecturer in research courses and also a higher education administrator - Registrar, Dean of Enrollment Management and Deputy to the President.
Before returning to CIE as a doctoral student, she was involved in a number of educational projects, consulting with UNESCO, UNICEF, the World Bank, AACRAO and other organizations, including national Ministries of Education, NGOs, educational institutions and bodies mainly in Central Asia (Tajikistan, Uzbekistan, Kyrgyzstan), but also covering other countries such as the CIS (Georgia, Russian Federation), China, Sri Lanka, Slovakia, Turkey, United States, etc.
As a CIE graduate (2005) and IE student I feel fortunate to connect with the most unique individuals, who are accomplished practitioners and scholars from around the world. The most in-depth and groundbreaking learning comes with and from them. The opportunity to study here transforms my understanding of the international education field, its knowledge base, systemic challenges, and most importantly the role of research in eternally complex and always distinctive education issues.
Her recent publications are on Kazakhstan, specifically on transformation of higher education (2018) and sustainable development (2019). Her current research is on professional development for multicultural, multilingual campus employees (higher education, USA).
------------------------------------
Fall 2019
In 2019 the CIE Endowment was able to help support two Fellows.  Their profiles are below.
Chenyang Xu is a first-year Ph.D. student from Shanghai, China. His research interests focus on utilizing social media and data science to support higher education and international student services.
In 2015, Chenyang received Master of Education degree at Kent State University (KSU) and started his career at the Alumni Association of KSU. During this experience, Chenyang realized the necessity and potential of digital systems in the higher education field. Therefore, he began a second master's degree program, Master of Digital Sciences, at KSU.
During his study at KSU, Chenyang co-founded the Chinese Alumni Association and established the university's first alumni public account on WeChat, the social media platform most used by Chinese students and alumni. As the manager of this account, Chenyang was in charge of reaching out to Chinese alumni, sharing the latest University notifications and information with international alumni, planning online campaigns and assisting with international alumni events. Today, the WeChat account has over 800 followers.
In 2019, Chenyang completed the study of Master of Digital Sciences degree at KSU. In order to further his study and research in education and digital technology, he joined the academic community of the College of Education as a doctoral student. His goal of doctoral study is:
Throughout my career in managing the university's official social media accounts, I realized the potential of utilizing social media as a supportive tool and outreach method in higher education.. The success of utilizing social media in my career motivated my passion for furthering my research and studies. Therefore, I wish to investigate this issue deeper in my doctoral studies.
------------------------------------
Onasheho Toweh is a graduate student from Nigeria. She is a third-year Ph.D. student in the School Psychology program in the College of Education. Her research interest focuses on cultural humility and teacher-student relationships in schools.
Over the years, Onasheho has had several rich and colorful work experiences working and living in diverse countries around the world including, Nigeria, Ethiopia, South Africa, Philippines, Australia, New Zealand and the United States.  These multicultural international experiences have helped reinforce her interest in international development.  She is particularly interested in finding creative and innovative ways to bridg3 educational gaps in Africa through 'culturally humble' approaches.
Onasheho received her Bachelor of Arts degree in Psychology from Southern Adventist University, Collegedale, Tennessee and her master's degree in Business with specialization in Public Relations from Queensland University of Technology in Brisbane, Australia. Her training in these areas have helped shaped her interest in leadership, relationship management, mentoring, research, Business and Psychology.
As a graduate student, she is motivated to receive the best training possible to make a difference in education.
I owe it to the people I will serve in the future, and to myself to receive the best training possible in order to contribute to the development of an integrative and inclusive approach that takes into account 'culturally humility' to bridge educational gaps in Africa.
------------------------------------
Fall 2018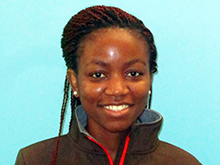 Pempho Chinkondenji is a first-year doctoral student from Lilongwe, Malawi. Her research interests focus on gender, education, and international development in the "Global South," especially in the context of Africa. 
Pempho's experiences growing up in Malawi motivated her to be the co-founder of a nonprofit organization called Loving Arms Malawi (LAM) that provides educational support for young people, especially girls.  LAM provides Malawian youth access to educated and professional role models to encourage them to stay in school and mentors them in their academic and career journeys.  Also, LAM raises awareness about sexual violence (which is a taboo topic in most Malawian communities), and provides young girls access to free counseling services. 
In 2017, Pempho completed a Master of Arts degree in Cross-cultural and International Education at Bowling Green State University, and her area of specialization was in Educational Development and Marginalized Populations.  She currently serves as a Youth Delegate to the United Nations for the Pan-Pacific and South-East Asian Women's Association and is interested in collaboration with various professionals in promoting women's empowerment across the world.
With these practical and personal experiences, I was motivated to apply for the PhD in Educational Policy and Leadership with a concentration in International Education.  As I study, I desire to understand the centrality of gender relations and how they connect to education and the development process in Sub-Saharan Africa.  I am very excited to be part of the CIE community at UMass Amherst, and I am looking forward to learning from the faculty, staff and students here!
Fall 2017
Shamo Thar is a third year Ph.D. student from eastern Tibet in China. Her main research interests are college access and equity issues for ethnic Tibetans under the era of Chinese higher education massification. Prior to coming to UMass, she founded a non-profit organization in western China which raised funds nationally and internationally to initiate education-related programs such as building schools, libraries, and scholarships in rural herding in Tibetan regions.
She was also a teacher at Qinghai Normal University in eastern Tibet for a few years and taught development studies there. While being a teacher, she secured funds from the United Board for Asian Higher Universities which she used to create small-scale grants for the students who then implemented various community-driven projects.
Shamo earned her Master's degree at Brandeis University in international development focusing on economics of development. She worked in both non-profit organizations and university settings as manager, program developer, fund-raiser, and teacher in Boston, Washington D.C, Beijing, and Xining. In her spare time, she likes to write picture books for young children in Tibetan language.  She spoke about her goals for her doctoral program:
With my Ph.D study, I plan to upgrade my skills in scientific research primarily understanding questions of college access and equity for under-researched groups such as Tibetans in Chinese education systems. After more than ten years of work in promoting quality education for Tibetan girls and youth in western China, my program at CIE/UMass allows me to transition and reflect upon past and look forward to meaningful ways of creating dialogues with larger audiences using data from solid research studies.    
Her recent paper titled Tibetan Pastoralists and Schooling: Local Challenges in a Context of Educational Reform has been published as a book chapter in Tibetan Pastoralists and Development through Leipzig University press.
Fall 2016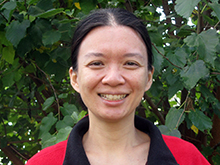 Eunice Kua is a first year Master's student from Malaysia. Formerly an academic librarian, she later trained in literacy and language development and has been facilitating a local language literacy program among Darfur refugees for the past 8 years. Based in eastern Chad, she served as a focal point and provided support to community-based mother tongue literacy initiatives in five refugee camps and 14 primary schools, working with teachers, trainers, supervisors, editors, illustrators and local committees. Her major responsibilities included designing and delivering teacher training workshops, facilitating the development of local language literacy materials, and visiting classes to see how the techniques and materials were being used. She says: 
I am really grateful to be able to come to CIE to fill some of the gaps that I identified in my skills and knowledge while working in literacy and education in Chad. It was a joy and privilege to be able to work with the refugees there, learning their culture and language and experiencing the remarkable hospitality, kindness and resilience they show. Through this Master's program, I hope to become better equipped to help refugees reach their educational goals. I've found that the readings and classes at CIE really speak to issues I want to explore and questions I came with. I am excited to find ways to apply the resources, information and conversations that I experience here to our work in Chad and elsewhere.
Fall 2015
Hafez S. AbuAdwan is a first year Master's student from Gaza, Palestine.
He has worked with local and international NGOs focusing on formal and non-formal education. He worked at the American International School in Gaza (AISG), at the Gaza Training College- UNRWA, and at Loyola University in Chicago as FUBLRIGHT Scholar. Hafez also worked for several years with AMIDEAST mainly on the ACCESS Micro-scholarship program for Palestinian youth. Because Palestinian youth lives completely under the Israeli occupation, they seek their most basic desires to have the right to live, love, and laugh. Hafez also co-founded "Voices from Palestine"; a creative writing group. Since 2008, this group has been active in generating a series of creative Palestinian writers.
After several years of experience in the field of education and experiencing several wars, I reached the realization that youth needs to be empowered through Peace Education where they can learn and apply conflict resolution and negotiation methods and tactics. Hence, CIE aligns perfectly with my academic professional interests. Here at CIE, I have ample opportunity to observe and learn from complex mixture of expertise in the field of international development. I will be able to utilize my knowledge to better benefit Palestinian youth. After all, it is all about preparing the leaders of tomorrow.
Fall 2014
Surl Hee Kim is a first year Master's student from South Korea. She worked at the Beautiful Foundation in South Korea which sponsors programs in
philanthropy education. The key messages of philanthropy education are that difference is not wrong, empathy is the first step for philanthropy, and philanthropic action can change the world in both small and large ways. These messages were effective in school classrooms, for parents and in non-profit sectors.  Surl Hee also worked coordinating volunteer activities for a vocational school for disadvantaged youth in Vietnam which provided her with an opportunity to learn about such work in another context.
Surl Hee comments on her initial reactions to CIE in her own words:
Personally, one of my hopes is reunification between North and South Korea. I've been thinking that I need to be prepared for after-reunification in my field. I am glad to have the opportunity to study at CIE.  It is exciting to learn about international education with students from various countries. The participatory atmosphere of the learning community at CIE has already triggered my interests and passion for more in-depth learning.  I am sure that my interest in building a healthy community for children and youth will widen through diverse programs at CIE.