Lac repressor recognizing the DNA operon. More..
Announcement - Two-Day Workshops:
Practical Protein 3D Structure Visualization and Structural Bioinformatics
Group I (filled): Monday June 17 & Thursday June 20, 2013.
Group II (open): Monday June 24 & Thursday June 27, 2013.
University of Massachusetts, Amherst
Integrated Sciences Building 321, 9:00 AM - 1:00 PM each day.
Limited to 15 participants per group.
taught by
Eric Martz
(UMass, Amherst)
principal author of
FirstGlance in Jmol
, and
MolviZ.Org
and
team member
of
Proteopedia.Org
.
To register, please email
Bringing your own laptop computer is encouraged
(
details
).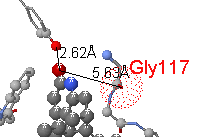 Anti-Alzheimer's drug analog (*) interaction with acetylcholinesterase (1gpk, cf. 1vot: Dvir et al./Sussman, 2002).