Lac repressor bending the DNA operon. More..
Announcement - One-Day Workshop:
Practical Protein 3D Structure Visualization and Structural Bioinformatics
Friday September 17, 2010, 9:00-13:00 and 15:00-19:00
Computer room S-102A,
Universitat de Barcelona
Departamento de Ciencias Fisiológicas - II
Campus de Ciencias de la salud, Bellvitge, Spain.
Organized by
Gabriel Pons
.
Taught by
Eric Martz
(UMass, Amherst)
principal author of
FirstGlance in Jmol
,
Protein Explorer
, and
related resources
and
coauthor
of
Proteopedia.Org
.
To register, please email
Bringing your own laptop computer is encouraged
(
details
).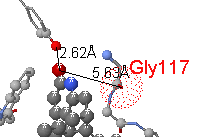 Anti-Alzheimer's drug analog (*) interaction with acetylcholinesterase (1gpk, cf. 1vot: Dvir et al./Sussman, 2002).